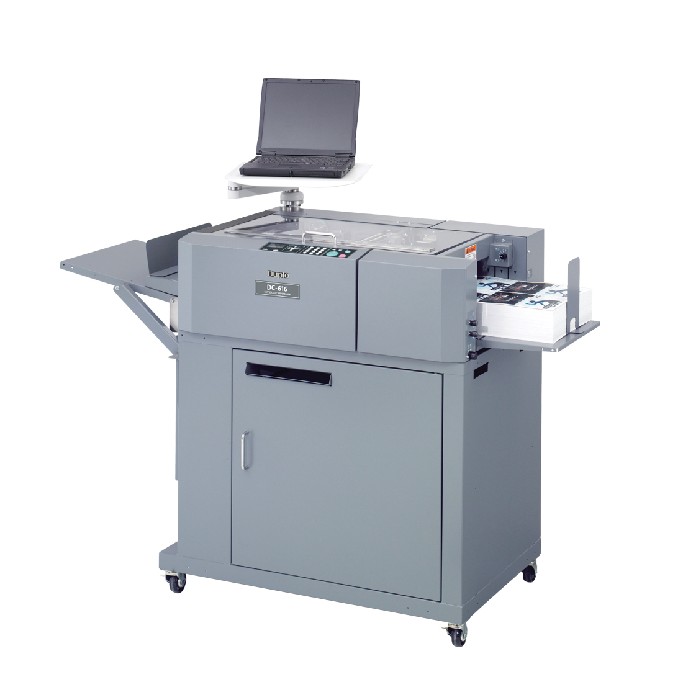 DC-616 PRO Slitter/Cutter/Creaser
The Duplo DC-616 PRO Slitter/Cutter/Creaser is the perfect finishing solution for the short-run, on demand digital printer. Designed to remove white borders and prevent toner cracking on digital color documents, this all-in-one finisher can process up to 6 slits, 25 cuts, and 20 creases in a single pass – bringing efficiency and automation to your post-press operation. Offering a fully automatic setup and quick changeovers, the DC-616 PRO can finish a wide array of full-bleed digital applications including greeting cards, invitations, brochures, book covers, photos, and 24-up business cards without additional modules required.
The DC-616 PRO comes standard with the PC Controller software for easy job setup via a PC and the CCD scanner, enabling it to recall any job stored in memory simply by reading the printed barcode and automatically set up the job. The scanner also reads registration marks, correcting the sheet-by-sheet image shift and delivering accurately finished pieces every time. The DC-616 PRO also comes included with a perforation unit, which includes two manually-adjustable perforation tools, to perforate along the length of the sheet.
Features
Processes up to 10 sheets per minute

Up to 6 slits, 25 cuts, and 20 creases in a single pass
Standard PC Controller software for easy job setup and unlimited job storage
Built-in CCD scanner reads barcodes and registration marks
Standard perforation unit
Key Applications
Full-bleed digital documents
24-up business cards
Greeting cards
Postcards
Direct mail pieces
Book covers
Brochures
Photos
Tent Cards
Feed Capacity

3.9" (100 mm)

Input Paper Weight

110-350gsm

Input Paper Size

8.26" x 8.26" (210mm x 210mm) to

13" x 26.37" (330.6mm x 670mm)

Speed

Up to 10 sheets per minute

Feeder Type

Air suction

Slits

Up to 6 slits per sheet

Cuts

Up to 25 cuts per sheet

Creases

Up to 20 creases per sheet

Options

Long paper tray