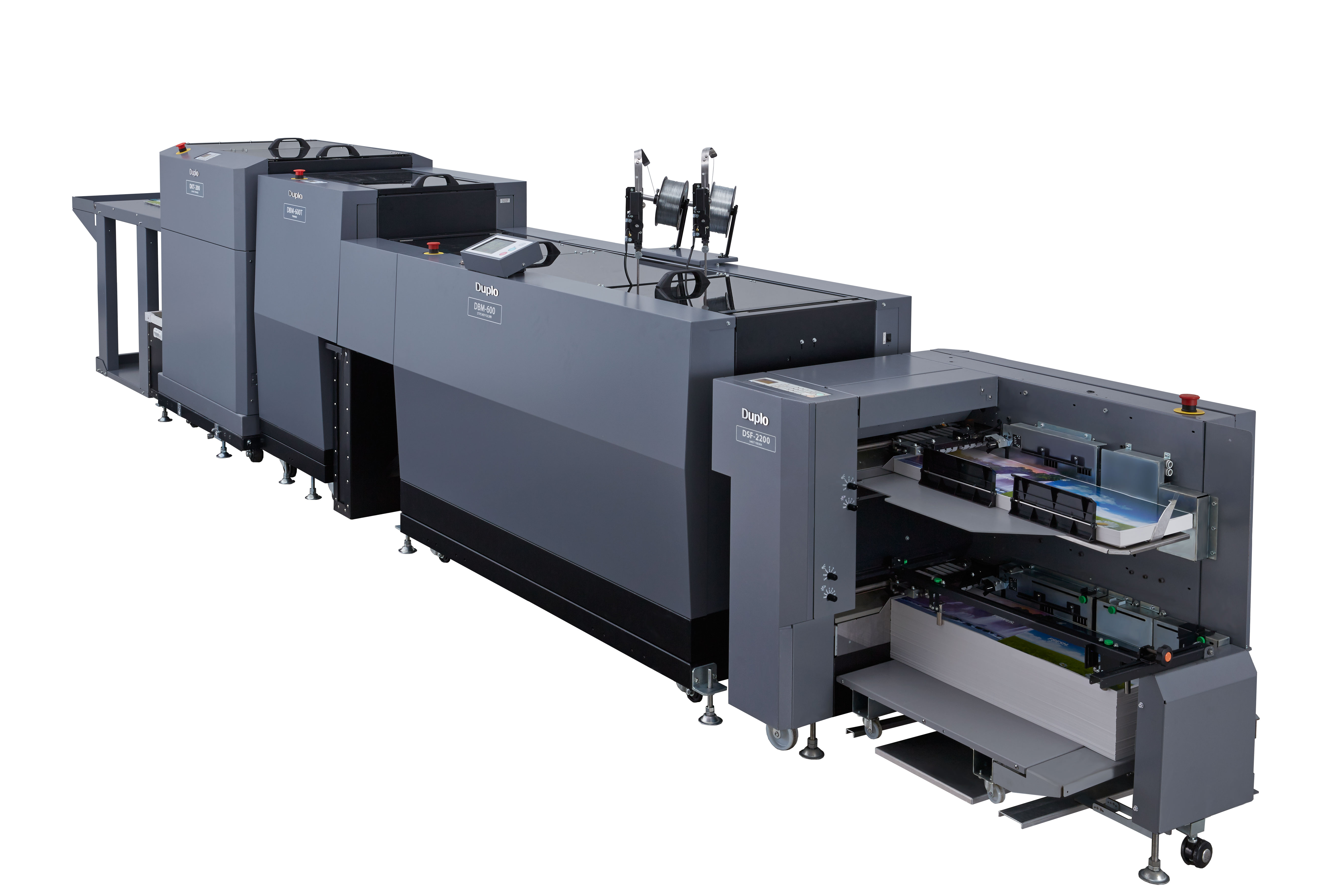 600i Digital Booklet System
The Duplo 600i Digital Booklet System configures the DSF-2200 Sheet Feeder with the high volume DBM-600 Bookletmaker, creating a bookletmaking solution ideal for mid to large volume printers. The DSF-2200 comes loaded with a number of high-end features including Duplo's own belt suction feed system, front and side air separation, an anti-static device and ultrasonic double feed detection for enhanced feed reliability. It feeds increased paper sizes up to 14″ x 20″ (or 9.05″ x 24″ via the optional Extension Tray Kit) up to 200 sheets per minute and offers a variety of options including a trail edge kit, pre-loading kit, and 1D & 2D barcode readers.
With the DBM-600 Bookletmaker, jobs can be saddle, side, or corner-stitched up to 5,200 booklets per hour and the automatic setup feature allows users to go from large-size to CD-size book jobs without any manual adjustments. Maximize productivity by adding the optional PC Controller to control the entire system from one convenient location.
Features
Ideal for mid to large volume printers
Accepts output from multiple printers
Converts pre-collated sets into finished booklets
Creates saddle, side, corner-stitched booklets as well as letter landscape applications
Feeds larger sheet sizes up to 24″ with optional Extension Tray Kit
Belt suction feeding with front and side air separation
Built-in ultrasonic double feed detection and anti-static device
Optional PC Controller can be added for easy set up
Optional three-knife trimming capabilities and 2-up processing can be added with the DKT-200 Two-Knife Trimmer
| | |
| --- | --- |
| DSF-2200 Sheet Feeder | |
| Number of Bins | 2 |
| Paper Size | Length: 7.87" – 20" (200-508mm)(Maximum paper length is 24"/610mmonly when the paper width is 7.88" -9.05"/200-230mm.If the width is more than 9.05"/230mm, the maximum paper length is 20"/508mm).Width 4.13" – 14.02" (105-356mm) |
| Paper Type | Art/coated paper; laminated paper 79-300 gsm; fine paper 52.3—300gsm |
| Additional Functions | Ultrasonic double feed detection; end mark detector (sensor); anti-static device; alternate feed function |
| Speed | Up to 200 sheets per minute |
| DBM-600 Bookletmaker | |
| Signature Bookletmaking | |
| Sheet Size | 4.13" x 6.69" to 14.33" x 25.19" |
| Folding Capacity | Up to 30 sheets |
| Stitching Capacity | Up to 50 sheets |
| Side/Side Stitch & Fold | |
| Sheet Size | B5 LEF, A4 SEF, A4 LEF, A4SR SEF, A4SR LEF, LTR SEF, LTR LEF, LGL SEF, LGL LEF, B4 SEF, B4 LEF |
| Corner Stitch | |
| Sheet Size | B5 LEF, A4 SEF, A4 LEF, A4SR SEF, A4SR LEF, LTR LEF , LGL SEF, LGL LEF, B4 SEF |
| Speed | Up to 5,200 sets per hour |
| Stitch Positions | Saddle, corner, side, fold only, side stitch, and fold |